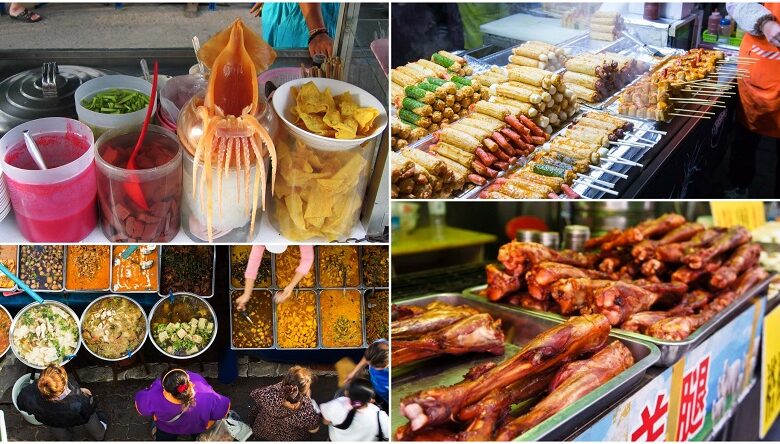 Southeast Asia is known for its beautiful countries and wonderful destinations. In Hong Kong there are The Peak and the Big Buddha; the Philippines has the Mount Mayon and longest Zipline; Malaysia has the Petronas Tower; Vietnam has the An Bang Beach, Myanmar has the Shwedagon Pagoda; and Singapore has the Gardens by the Bay and the Marina Bay Sands SkyPark.
The best thing about these nations is that they also offer some of the most delicious street foods in the world.
Hong Kong Street Foods
Most of Hong Kong street foods are served skewered like the following:
Satay – grilled meat
Cantonese Chicken Feet
Shrimp Balls
Philippines Street Foods
Just like in Hong Kong most of street foods served in the Philippines are also skewered, and these are mostly called "Inihaw" or grilled, but there are some served in other ways.
Banana-que – fried bananas skewered in bamboo sticks
Chicken Barbeque (different chicken parts) – the Filipinos love eating chicken very much that eat almost every part of this bird such as; head, intestines (isaw), feet (adidas), liver, neck, and even the clotted blood. Of course the mostly known edible parts of chicken are also being served.
Pork Barbeque – small pork slices skewered in bamboo sticks.
Other Street Foods
Malaysian street foods include; deep fried bananas and yams, and potato balls. When you go to Singapore you will encounter Popiah (fresh spring roll), Char Kway Teow (noodles), and Roti (bread). Myanmar offers Mohinga (rice noodles in fish soup and fritters), Pe Byouk (boiled peas) and Curried Goat Testicles. Vietnam on the other hand, serves Saigon baguette, Bann Cuon (roll cake) and Goi cuon (fresh spring rolls).