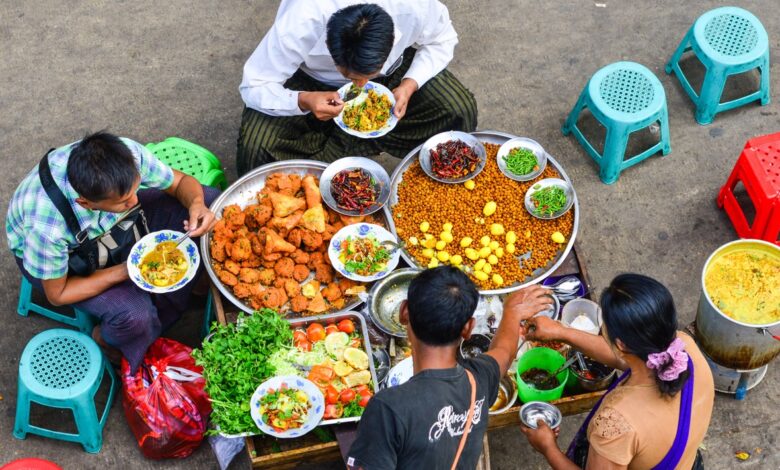 Yangon, in Myanmar is very similar to any South East Asian city like Bangkok when it comes to street food feasts. Here Burmese delicacies are very much abundant that tourists just can't resist. Yangon, in a way is one city where food comes on top priorities of the people, locals and visitors alike.
Mohinga
Mohinga is the top food in the Burmese cuisine and it is a very popular dish made rice noodles deliciously covered with fish-based soup and beautifully sprinkled with fritters that have been perfectly deep fried. Mohinga is a great Burmese breakfast treat
Burmese Naan Flat-Bread And Pe Byouk
This meal is composed of a bread in Burmese-Indian naan style, which is taken out directly from the clay pot, while the Pe Byouk is a dish of boiled peas. Normally, this dish combination is served with the beans bagged and torn up naan is placed on top, which is a style that is ideal for take outs. If you are inclined to dine on the spot – on a side street – then you can have the meal served burrito style. This is another great Burmese morning meal.
Rice And Burmese Curry
As in many Asian countries, rice is also very much popular in Myanmar, and together with vegetables and curry you will be surely taste a great treat. Burmese curries are slightly milder than most, but they taste so good that a cup of rice may not be enough to go along with one serving.
Deep Fried Stuffed Tofu
Tofu is a healthy food and it is very common in Asian countries. This is one kind of food that can be served for breakfast, lunch or dinner. It can be a great substitute for rice and bread. In Yangon, Myanmar, you can experience a totally different tofu recipe. Here they stuff the tofu with chilies, cabbage and a very special sauce that complete a very mouth-watering dish.
There are many more Burmese meals and dishes that you can see being sold by side walk and street vendors. Some of these can also be ordered from local restaurants. The most important thing to keep in mind when eating in Yangon is to make sure that your stomach is big enough for all the delicious foods you are about to try.