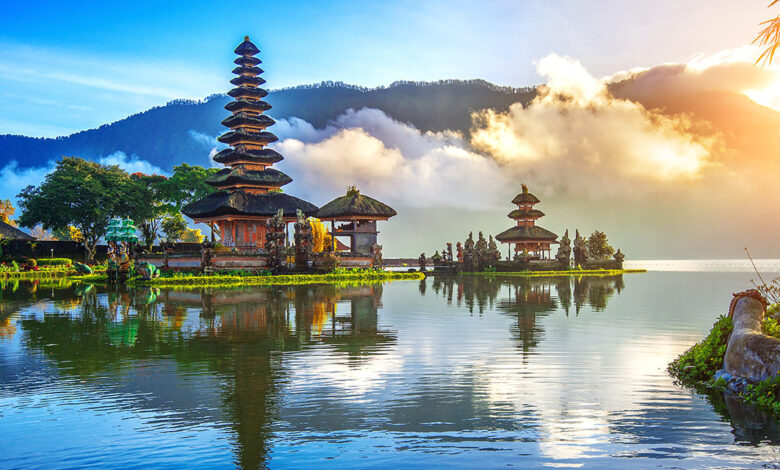 Bali is the Hindu region of the Indonesian archipelago, it is the province where most of the population is Hindu and where most of the Hindu religious objects are located. The shrines and temples (known as puras) are scattered everywhere; there are over 20.000 religious objects on the island, this is why the island is often referred as "The island of the Gods "or "The island of thousand Puras". Bali's offers many beautiful sites from mountains and hills to beautiful sandy beaches, the green ladder fields of rice, the volcanoes and the lava fields it is diverse and unique place that offers wonderful experience.
The beauty of the land and the diversity of terrain, along with the climate make the island of Bali, one of the top tourist destinations for water sports. There are big waves rolling down the shore, surfing is one of the favorite water sports. Diving, scuba diving and snorkeling are also common activities, there are black and white sand beaches and each of them offers different experience. You can also go white water rafting in the Ubud region, many places in Bali are attractive to sport fishers, and you can go for jigging, trolling or fishing on the bottom and make a good catch. Other activities include jungle hiking, mountain biking, paragliding, horseback riding, bungy jumping etc.
Read also – The Enchanting Fiji Island : The Popular Tourist Destination
Opposite to the Republic of Indonesia, where Islam is main religion and pork is being prohibited in the diet, in Bali the diet is centered on pork. If you go in Bali you surely should try the Balinese cuisine, there are many specialties that include pork, such as the roasted pig – Babi guling, it can be served at market stalls too, the cuisine uses duck in many dishes, such as Bebek Betutu – darkened duck etc. There is much to try and see in Bali, you can only enjoy it.