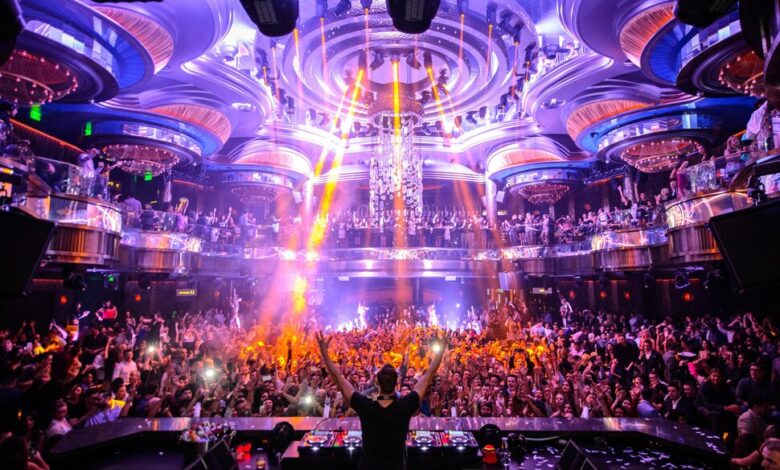 If you go to Las Vegas, it is impossible not to party and enjoy the night, in the city that never sleeps. The best thing about Las Vegas is that it has the best places to party and have a great time. In fact, it's practically impossible to get bored if you go to Las Vegas for a night out. But if you want to live an experience of luxury and exclusivity, you should know where to go.
To prevent you from choosing the wrong place, we have compiled for you a selection of Las Vegas VIP Tables that have the best ambiance, the most delicious drinks that will ensure you a night you will never forget.
Omnia Las Vegas
We had to start big with one of the best nightclubs in Las Vegas, and it is none other than Omnia Nightclub. It is located in the well-known Caesars Palace and is one of the best known clubs in the city. It has been offering the best parties since 2007, and with more than 7000 square meters and an incomparable terrace you will be able to live a unique party.
This is a club like few others, as it has the best VIP tables and the most exclusive bottles in the city. In addition, the best music is played every night, as it is common for DJs such as Afrojack, Martin Garrix and sometimes Calvin Harris.
And if you are a lover of luxury, OMNIA Las Vegas is ideal, as it is the most exclusive nightclub in town. It is full of opulent furnishings and amenities that only a VIP client can enjoy. And to live the best experience you have to book in advance.
XS
In Las Vegas you will have the opportunity to experience a luxurious party, and although there are several places, the best of all is XS. It is located in one of the most luxurious hotels in Las Vegas, the Encore. This is a nightclub for the most classy and glamorous clients who want to live a sublime and unique party.
The design of the club is unparalleled, as well as expensive, because it had a price tag of about $100 million. This resulted in a club full of curves inspired by the human body. The club is composed of three environments which are the dance floor, the enclosed lounge and the outdoor lounge to cool off a bit.
An excellent thing about this club is that you have many tables available in the VIP rooms to make you very comfortable. But there is also the dance area where you can enjoy the music, the hottest go-go dancers in town and the lights.
Zouk
If you like intense parties, at Zouk you can find it. This place has a maximum capacity of 2160 people, so the party gets really wild. There is plenty of space to have a good time, because it has three party rooms for you to dance and enjoy, although there are also VIP rooms for you to reserve a table and be comfortable.
And a party without good drinks isn't really a party. That's why Zouk has for you the Capital Bar, which is an exclusive area of the club to taste the most delicious craft cocktails in Las Vegas. There you can order all kinds of cocktails and they will serve them instantly to liven up the party even more.
If you go to this club, we recommend you to reserve a table for an exclusive night. This way you will have a party full of lights, artists and excellent music, because these tables are close to the dance floor and give you the best view.
Hakkasan
If we talk about impressive nightclubs, we could not leave out the Hakkasan. This is the great jewel of Las Vegas, as it cost more than 100 million dollars to build. And it became one of the most exclusive clubs in the city.
This club is very big, it has 5 levels and about 80,000 feet that offer you the best party in Las Vegas, but also in the United States. This club is located in the MGM Grand, which is the largest and most important hotel in the city.
The best thing about Hakkasan is that it's not just a discotheque, it's one place, with a lot of things to do. For example, it has a restaurant, a ballroom, a room for private parties. And of course, the disco has bottle services and exclusive packages that will give you a party like no other.
The dance floor is in the center, and all around are the VIP tables, which are the most luxurious in all of Nevada. The best part is that the tables are in front of the DJ, so they will give you a good view of the stage, you can be close to world-class DJs like Steve Aoki, Calvin Harris and many more.
So if you go to Hakkasan, the ideal is to book a VIP table, this will give you the comfort you need. Because after dancing, you can sit down for an exclusive drink to recharge your batteries and get back to the party.
Drais Nightclub
Partying in small nightclubs is a very bad plan, because there is never room to dance and have a good time. But this is not a problem for Drais Nightclub, which is one of the biggest clubs you can find in Las Vegas. It can hold up to 2500 people, and has VIP tables for its most exclusive clients.
Among the best things about Drais Nightclub, is that it is very well located, you can get there very easily and inside you have everything you might need. You will find a large dance floor and an outdoor terrace with a pool for you to cool off when your heart rate rises. 
This club is located on the rooftop of the Cromwell Hotel, so you will be able to appreciate great views of the city and with its various levels totaling 30,000 feet you will have an unparalleled party. This will be a multi-sensory, exclusive experience, full of music, delicious drinks and the best atmosphere the city has to offer.
Although different types of music are played, the most frequent are EDM, Hip-Hop and R & B. In this club the most recognized DJs of today, and as the VIP tables are well located, you can listen to excellent music, while having one or more delicious drinks.