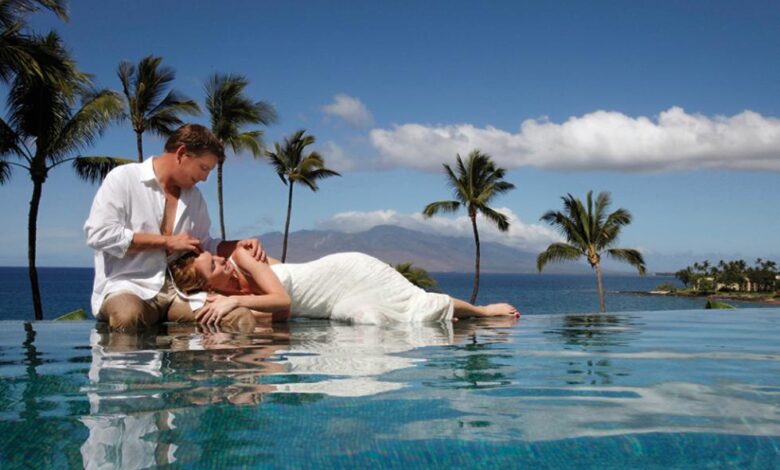 Maui is the most exotic island in Hawaii. The most romantic beaches, marvelous scenery, natural and scenic wonders and many more reasons why you must plan to visit Maui for a Romantic Honey Moon. The island is filled with surprises since it has been voted as Best Island from last 17 years by Conde Nast Traveler.
The Most Exciting Maui Adventures
Maui offers the most exiting adventures to tourists. There are plenty of outdoor adventures and visitors can experience unique adventures. Snorkelers the most unforgettable activity can be enjoyed on sparkly Molokini waters.  One can enjoy whale-watch or just get their first surf lesson. The visitors can visit Maui's highest-peak, enjoy horseback ride.  To watch the waterfalls and valley, tourists can take helicopter ride to enjoy the breathtaking view closely.
Maui the Romantic Destination
Maui is the most Romantic Destinations and also one of the top honeymoon destination in-the-world.  Couple can watch the beautiful sunrise from top of Haleakala Crater and take a long walk on the coastline to enjoy sunset.   Maui offers the beautiful beaches and perfect resorts and also offers beautiful setting for gorgeous weddings or receptions or you can just spend quality time with your loved ones.
Enjoy the Delicious Food at Maui
Maui offers authentic food; it is the best dining center where you can find European to Asian cuisine. The food is very delicious and definitely satisfies your taste buds. The Maui cuisines are the best and your trip is not complete unless you taste local dishes like Huli-Huli chicken, fresh seafood, Macaroni Island, or tradition plate lunch.
Visit this beautiful Maui and enjoy every moment. The island offers the most beautiful resorts where you can anticipate high-quality services.