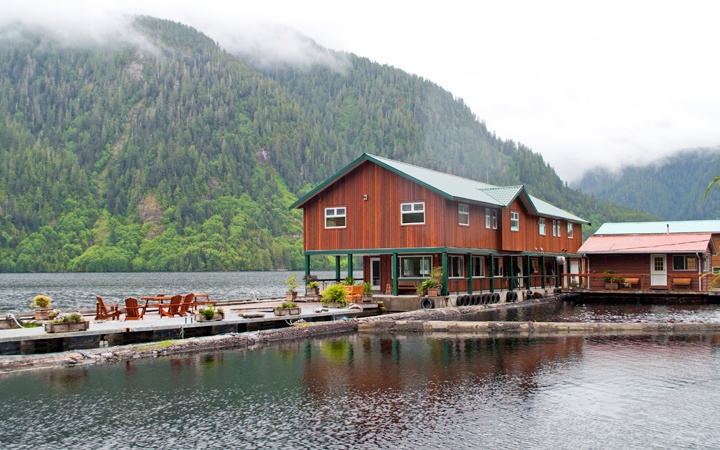 There is a five star hotel in one of the most remote and pure regions of the world, at Canada in the region of British Columbia in the Great Bear Rainforest. It is called the King Pacific Lodge and it floats for four months of the year from the period of June to September. Another interesting fact about it is that visitors can get in the hotel only by floatplane.
The lodge is made of luxurious and fine materials, such as cedar, pine and fir and stone. It has capacity of 34 guests; it has 17 rooms and suites for guests, a deck around it and spa, Jacuzzi and a pool. Here you can visit with the whole family knowing that your kids are well taken care of. There are many activities that will keep the children calm. The crew tells stories around a fire, there are movies to watch, movies about the forest and the whales near, many games such as treasure hunt, crafts and arts etc. For the older children there is the course on fishing and fly fishing and also organized treks in the forest with experience guides.
Check Also – Mountain Lodges Beneath the Machu Picchu in Peru
Activities for the adults are way more, the include outdoor activities such as hiking and trekking in the forest, kayaking and beach combing, fly fishing and trolling and observation of the flora and fauna, the sight of grizzlies and black bears but also wolves is not unusual, the marine life is also very mobile here, so you can see orca whales, sea lions, seals etc.
There is also a possibility for a group booking for companies, so the employees can be involved in team building programs such as fishing tournaments, races in the forest or survival games. There is also fishing, boat rides and many more activities.  For cooking are used local ingredients such as organic produced vegetables and fresh seafood and meat.  This is highly eco-friendly hotel, and it has won some awards for this idea.