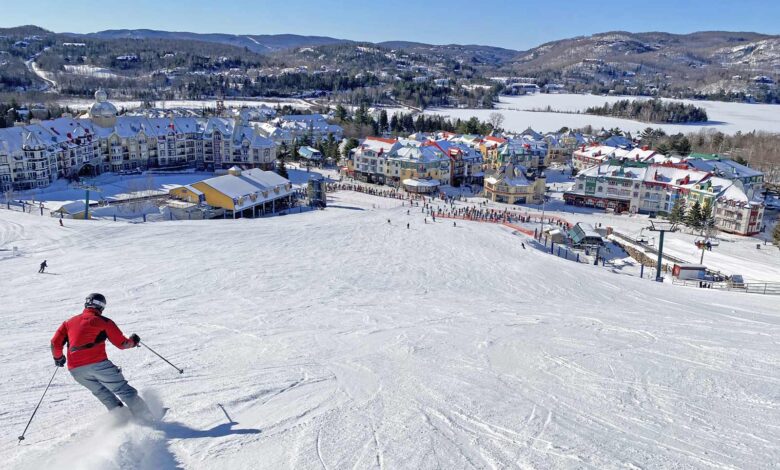 Tremblant offers a wide range of winter activities including 95 ski trails on four slopes for skiers and snowboarders of all levels of expertise. The snow conditions are kept perfect with the latest technology in snowmaking systems and over 1,000 snow guns. The ski area is 654 acres and the longest trail in 6 kilometers. There are specific trails for every level of skier or boarder. The resort has four high-speed, four passenger chairlifts, two gondolas, three Magic Carpets, one Cabriolet and three other chairlifts.
Good Options for Tickets
Tremblant offers 11 options for tickets, passes and cards. The one day pass has a discount if several are bought at one time. Season passes give unlimited access to everything as well as some privileges. A Sublime Pass consists of 114 days of skiing including 33 weekends. A T-66 pass gives 48 weekdays and 18 weekends. The Latitude Card gives seven days of skiing at the lowest price available. It also offers a 20 per cent discount for additional tickets. There are special tickets for children from six to 17 years on school breaks as well as student passes for students between 6 and 29 years. A Spring Pass is available in March for 27 days of skiing including five weekends. There are also all-inclusive deals for lessons, lifts and equipment rental. Tremblant gives discounts for corporations and ski groups.
If you would like to book your trip, you can find more details on skiing in Tremblant here for couples, families and larger groups.
Go Directly to the Lift
This option links the ski pass or card directly to the guest's credit card, so they don't have to wait in line to buy a ticket. If the ski card or ticket is used up or invalid, they can simply go directly to the lift, and a secure payment will be automatically applied to their credit card with all the available discounts.
Be the First on the Track
There is an express gondola in the morning on the North side's designated slopes where skiers and boarders can be the first down the mountain on the freshly maintained trails. This perk is free to anyone lodging at the resort and for Regular Pass holders that have tickets for five or seven days or families with seven day tickets. Others can buy First Track tickets the day before or early in the morning if they have a valid day lift ticket.
Three World Class Snow Parks
Anyone looking for freestyle adventure has 30 acres at Tremblant in three different locations. All snowpark users must wear a helmet and should follow courtesy rules including not stopping near modules and not cutting off a skier who is about to jump. The snowparks have orange signs that have the size of the module and the difficulty level. There should be only one person on the freestyle feature at a time.
Adrenaline Snowpark-Limited Access is one of North America's best snowparks according to Ski Magazine. It has extra-large modules and a permanent snowcross and skicross course. Skiers need an Adrenaline Park Pass for access.
Alpine Park has four aligned jumps and is considered a good place for skiers to prepare themselves before trying the Adrenaline Park.
The North Park is on the rope tow trail. It has been especially created for families, and is perfect for skiers and boarders who want to learn freestyle. It has small and medium sized modules and, also, has a banked slalom course.