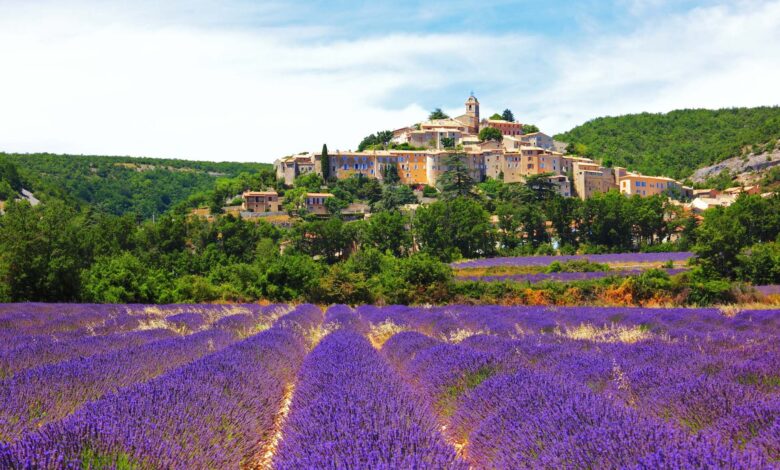 The 12th Century Abbaye Notre-Dame de Sénanque is of great interest to architectural and ecclesiastical historians, but it is known today as the picturesque backdrop for a field of lavender. Just a few miles north of Gordes, gem of the Vaucluse, the Abbey has been photographed by thousands, and its many images on postcards and calendars may have given the impression that the Luberon valley is the only place in France where lavender is grown.
This is not strictly true. Most of the lavender grows to the north and east of glorious, enchanting valley immortalized by Peter Mayle in his book A Year in Provence. The area around Sault, beyond the Grand Luberon range, dominated by the perfect cone of Mont Ventoux, is covered with lavender fields. Further north still the Drome, and to the east the Alpes-Haut-de-Provence region more than hold their own in the extravagant display of row after row of purple mounds, stretching as far as the eye can see, towards a turquoise sky.
And the smell! It is heavenly, heady, hedonistic. And healthy. If one were able to choose just one herb, it would have to be lavender. It is known as an antidepressant, an analgesic and an expectorant. It is antiseptic and antispasmodic, an insect repellant and a soporific. There are few ailments in this world that will not be alleviated by lavender.
Back to the Luberon. There may be more lavender fields in other areas, but there is only one Museum of Lavender. This is to be found in Coustellet where the road from Avignon to Aix en Provence intersects with the road from Cavaillon to Carpentras. The Museé de la Lavande explains the history, cultivation and industry of lavender. The shop sells soap, perfume, essentials oils, cleaning products and sachets.
Down the road a bit at the Gare de Bonnieux you will find a rustic restaurant offering a lavender ice-cream that is to die for. Enjoy.