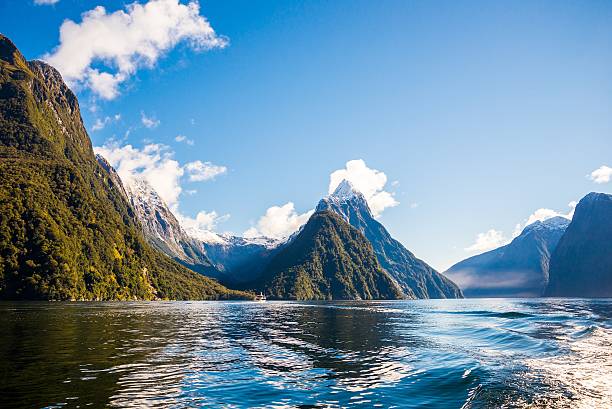 The outstanding natural beauty of New Zealand has to be seen to be believed.  At its southern tip is Piopiotahi, the Maori name for one of the world's top travel destinations
The south west area of New Zealand's South Island comprises Fiordland National Park, Piopiotahi Marine Reserve, and the 2.6 million hectare Te Wahipounamu World Heritage site.  What people primarily come to see is -according to Rudyard Kipling – the eighth Wonder of the World: Milford Sound.
Easter Island, St Helena and the Galapagos may be more difficult to get to than Milford Sound, but not by much.  It is a long way from anywhere, but it would be a big mistake to focus solely on the destination, and ignore the route. To get to Milford Sound you pass, and should stop at, Mount Cook and its glaciers.  The fabulous Hermitage Hotel offers views  of and excursions to New Zealand's highest peak.
Also on the way is Lake TeAnau, the largest lake by volume in Australasia.  It is a haven for fishermen who can pursue trout from jet boats, or families who want to go boating, fishing or kayaking.  Nearby are the TeAnau glow worm caves which rival the better known caves at Waitomo on the North Island.  One enters the water-filled caves by boat, as quietly as possible, to see a myriad tiny pricks of light overhead. A sudden clap is like an off switch, plunging the group instantly into darkness.
Lastly (and if ever there was the epitome of last but not least, this is it) there is the Ahuriri Valley leading to the Lindis Pass.  At the right time of year – midsummer – this valley has a carpet of pink and blue and purple spikes. Lupins as far as the eye can see. Truly one of the wonders of the world