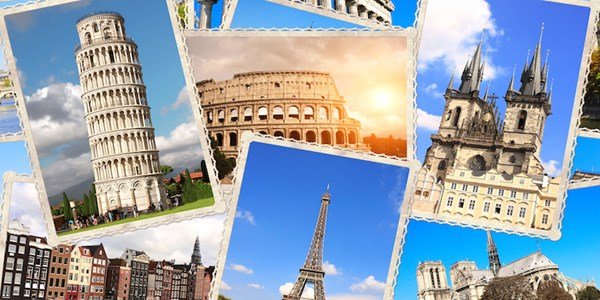 For years, European countries become the main destination for tourists throughout the world. This continent hosts magnificent countries as all of them have various historical stories with great influence on world's political and economical aspect. Most cities in Europe have major contribution in the World War II as well as other historical moments.
Tourists throughout the world will adore the great buildings which become the silent witnesses of Nazi's or Fascist regimes in Germany and Italy. Everyone can also witness the grandeur of the Roman's empire from The Colosseum. Both countries are now also famous as the center of education and fashion. This can be one of so many reasons, why Italy and German are always fascinating for most tourists.
French is another tourism destination which attracts people who want to enjoy its natural beauty as well as fashionable products. As the deviser of latest fashion, cities in French are always flooded with those fashionistas who are crazed over breathtaking designer products. Another amazing destination is the Alps. It is another magnet for those adventurers who adore the beauty of snowfall while enjoying winter sports.
Check Also – How To Organize Important Travel Documents To Avoid Stress
Most European countries are safe, especially those rich countries like Norway, Switzerland, and other Scandinavian countries. People find out that having a trip to European countries is worth doing as they do not only enjoy new experiences in traveling, but they are also free from hazardous threats or crimes, including terrorism. It makes sense when most European countries really apply strict rules to tourists or immigrants from third world countries because of safety reasons.
However, the only drawback of spending holidays in Europe is the high expenses. Tourists have to use Euro for shopping and those who are from third world countries have to spend much in paying flight tickets and hotel rates as well as buying souvenirs and meals. But it seems that nobody cares about it as visits to Europe remains stable for years till now.