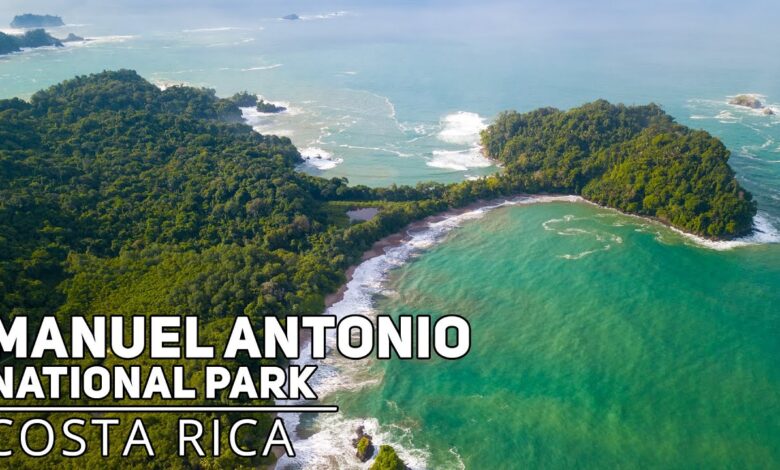 Manuel Antonio the beautiful and small National Park located at Pacific Coastline of Costa Rica in the Central-Pacific Conservation-Area. This beautiful national park was established in 1972, it is very tiny amongst many other national parks in Costa Rica but every year around 15,000 visitors come to this place to enjoy the amazing beaches and outstanding hiking trails. According to Forbes Manuel Antonio is 12th most gorgeous national park in the world.
Manuel Antonio Offers Amazing Beaches and Views
People always have high expectations when they visit Manuel Antonio National Park, and how high you set your level of expectation, the national park is sure to reach as it is one of the enthralling national parks that Costa Rica Proudly welcomes the tourists with open arms.  Manuel Antonio also boasts outstanding beaches and views. The choice for quality accommodation is plenty and all these hotels offer world-class services to guests.
The white sand beaches are awe-inspiring and the beaming blue water and cool fresh breeze from ocean is just the perfect way of spending amazing time with family and friends. This is the magic land for people who are looking forward for a stress free vacation.
Real Also – The Skeleton Coast on Namibia
Manuel Antonio – Home for amazing Wildlife
Manuel Antonio is also home for wonderful animal kingdom, and it is also one of the two places where you get to see all 4 types of monkeys.  Howler monkey, spider monkey, squirrel monkey this breed is endangered and white faced monkey are 4 type monkeys, freely wander all over the region.  You can also see sloths everywhere in the national park. Although it is very small national park it still hosts 109 species-of-mammals and around 184 bird species.
Visit this amazingly beautiful Manuel Antonio at Costa Rica for its sparkling beaches, excellent climate and beautiful scenic nature.