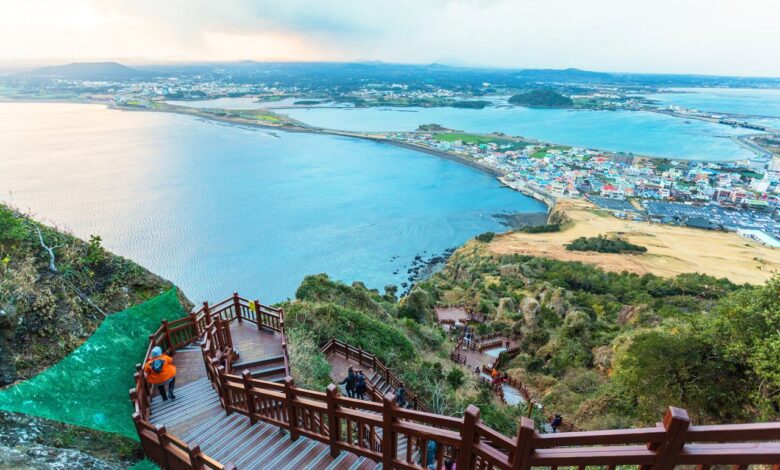 Jeju Island is one of the fantastic vacation spot; if you are planning to spend some peaceful vacation then visit Jeju at Korea, this island recharges you completely.  Before, the Jeju was known as Cheju Island. The beautiful Island is situated in Korean Strait at Southern-coast of South Korea.  The southwest side of Jeollanam-do region was a part of the Korea before getting separate and forming its own state/area in 1946.  Now, it is the Unique and one and only Autonomous Province in Korea.
LEARN MORE ABOUT JEJU
This amazing Island is famously called as "Island of Gods" the locals and visitors equally enjoy this vacation spot. It is also world's best honeymoon spot.  Many newlyweds come to Jeju Island for romantic honeymoon, best place to start new life.  The Jeju has little similarity to Hawaiian Island in United States according to its geographical and climate mode.
ENJOY OTHER ACTIVITIES AT JEJU
Once you visit the island you can enjoy every movement as it offers various kinds of entertainment and activities. You can go for Hiking on Ollegil, or the Halla-san, which is considered as the highest peak of South Korea. The other activities are like riding horses, having fun at beaches, and spending lovely evenings at ocean and enjoy the sunset.
Read More about – Cape Town Beach
CLIMATE AT JEJU ISLAND
The climate is pleasurable, typical coastal climate, mild and smooth. The minimum temperature is below 0 degrees Celsius; even during the winter the weather stay same because of warm currents.  The Island is on the periphery of subtropical and moderate zones.
TRAVEL BY PLANE
The international airport in Jeju has around Twenty three airlines in total that offers direct flights (10 international and 13 local airlines).  The majority of flights are from Busan or Gimpo to Jeju.