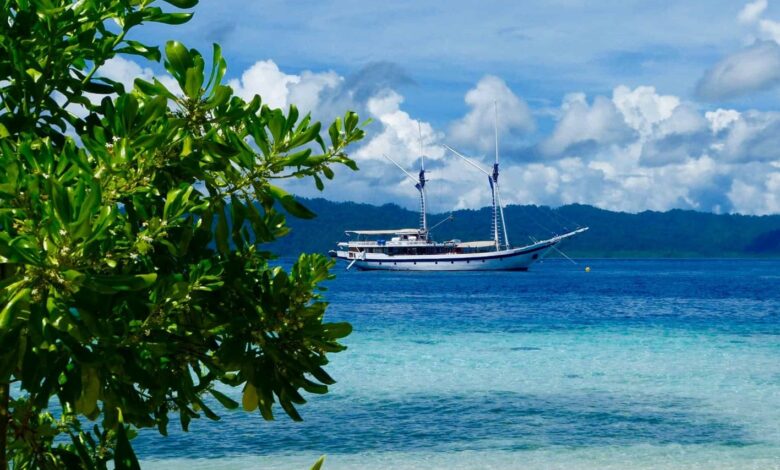 The Indonesian Archipelago is on the equator, it is consisted of more than 13.000 islands and it is stretched at nearly 5.000 km from east to west and even more than 2.000 km from south to north. Lands with mountains and volcanoes, with jungles and diverse flora and fauna, there are six seas here, many coasts beautiful dark and light blue waters, many ye unexplored reefs and one of the greatest marine life systems in the world. Indonesia is also very diverse in cultures, customs and religion; you can see many Islam, Buddhist and Hindu temples on the islands.
With so many locations and wanders to see and visit Indonesia, you would thing that cruises are very often, but it is not so, there are not so many cruises in Indonesian archipelago throughout the year. The cruises that are present will visit only a small number of island and ports, this is mainly because of the huge number of islands. Cruises will take passengers on the many and wonderful tropical beaches, the temples on the islands are peaceful and marvelous, there are native villages that are lively and colorful. Although this is Indonesian Cruise it is very often that cruises are focused on Bali, which is of course the most popular port in the region.
Read About – Scandinavia Cruise
Among the other islands that cruises involve is the island of Java, the island of the Volcanoes, where the finest examples of the tropical flora can be seen, on the island of Java are also the most stunning coasts of Indonesia. Another popular place to visit is Semerang, with the Buddhist temples; here you can see the biggest Buddhist complex in Borobudur. On every port and stop of the cruise visitors can go for swimming and enjoying water sports. Some of the cruises go further down to Australia and other nearest countries as well.