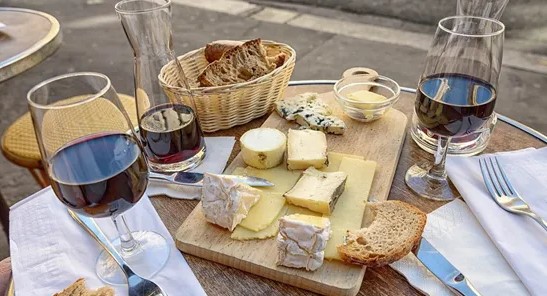 France is the top leading country in the world tourism; the reasons for this are numerous. The country history and culture is one of the most influential in the world, its royal families and kings are famous around the world, some of the most powerful and influential characters of history are from France, Napoleon Bonaparte and Joan D' Arc. It is the country of the Eiffel Tower and many other architectural wonders, many colossal museums and art galleries. France has the Azure coast, the festival of Cannes, the French Alps and the Mont Blanc. France literally has everything and everything that comes out of France is famous. That is the case with the French cuisine too.
When it comes to the French cuisine, there are certain foods and drinks that come right away in mind, the wine and the cheese and to those with sweet tooth the croissant. Of course wines are most famous, vineyards are scattered all around France, and every region offers different wine, most of the worldwide sorts of grape varieties have origin from France, such are Cabernet Sauvignon, Merlot, Pinot Noir which are red sorts, and Chardonnay, Sauvignon Blanc, Riesling from the white varieties and many more red and whites.
Read Also – Taste Meat and Beer in Czech Republic Tour
Main regions in wine production in France are: Alsace, Bordeaux, Burgundy, Champagne, Normandy and many more regions. Almost in every region in wineries and wine houses there are organized tours of wine tasting, there are such tours in the cities too, where the best wines and cheese from France are tasted. When it comes to cheese, France is the origin country of many favorite types of cheese such are Camembert, Roquefort, Brie de Meaux, Munster and many more. There are also cheese shops, where you can taste the cheese and buy.